What could these three things possibly have in common? The answer is this year's Museum Ambassador badge and our museum tote bag!
The image on the one-inch badge that Junior School students receive when they complete their Museum Ambassador activities comes from an advertisement on page 34 of the 1941-42 Chronicle. At that time, the school's uniform supplier was the Bay, and the ad features a black and white drawing of two girls wearing a facsimile of the YHS uniform.
We were then inspired by the pop art of Roy Lichtenstein to colourize the image and make it more vibrant for our Museum Ambassador badge.
The button was so well-received that we had it reproduced on a cotton tote bag to sell at the 2016 Holiday Market.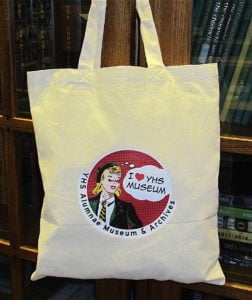 If you're a fan, the badges and tote bags are available through the Alumnae and Advancement office on the third floor of the Senior School.