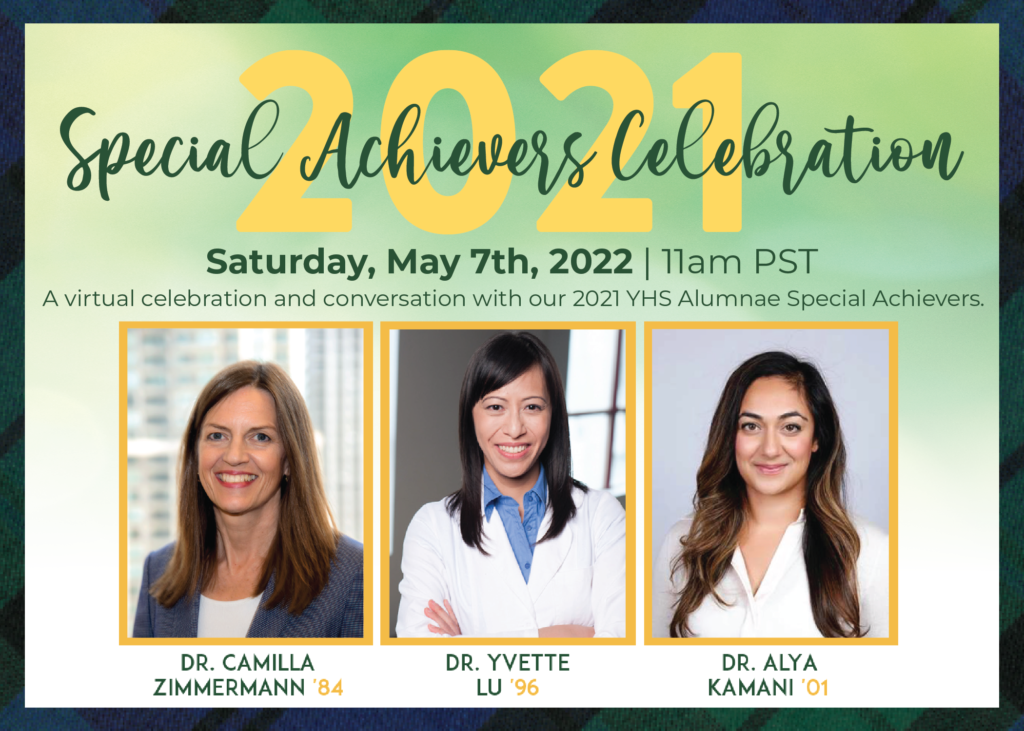 Please join us on this special occasion to celebrate our 2021 YHS Special Achievers, Dr. Camilla Zimmermann '84, Dr. Yvette Lu '96 and Dr. Alya Kamani '01. These alumnae have been selected by our YHS Alumnae Association for their incredible contributions to their community.
Every year, one special achiever nominee is selected for this esteemed award but in the 2021 nomination process, the Alumnae Association felt strongly that by selecting these three nominees, all outstanding candidates in the medical field,  the awards would also serve as a heartfelt tribute to all of our alumnae healthcare professionals on the front lines during the pandemic.
We look forward to welcoming Dr. Camilla Zimmermann '84, Dr. Yvette Lu '96 and
Dr. Alya Kamani '01 to join in a conversation moderated by Dr. Maria Chung, past YHS board chair and parent to our alumnae, Charlotte Munk '07, Eleanor Munk '09 and Sophie Munk '13.
The theme of their conversation will centre on the lessons learned over the course of the COVID-19 pandemic from a personal and professional perspective.
To RSVP for this event, please register here. Virtual Zoom event details will be sent prior to May 7th.