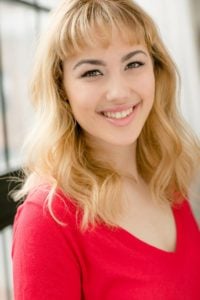 Colette Richardson '16
Colette, you went to New York after York House graduation in 2016. Why New York?
I went to New York for the first time for my thirteenth birthday and it was love at first sight. There is a constant heartbeat to the city that pulses this energy of creativity and opportunity that truly makes me feel like anything is possible. I'm also very much a "places to go, people to see" kind of person, so the culture of constantly being on the go was a really good fit for me. Mostly though, as a performer with an eye on a professional musical theatre career, there's really nowhere else to be. New York is the heart of the musical theatre industry, with new works being developed and performed here every day. I really wanted to be a part of that, so this was really the ideal place to try and get started.
Describe some of your experiences over the past two years.
Coming to a post-secondary institution that was less academically focused was definitely a shift (as was re-introducing the male species into my social circles), but it really allowed me to meet people from very different backgrounds from me and learn about how they grew up and it's really allowed me to look at how much my experiences shape how I see the world.
 The Integrated Conservatory Program at AMDA was an amazing sandbox to hone my performance skills and really work on mastering the specificity that separates the "hobby" performer from the professional. I have had the opportunity to work with so many amazing professionals, ranging from Casting Directors who worked on Enchanted and Dirty Dancing, to director/choreographers who performed in national companies of A Chorus Line. I even had one professor who dubs over sound for Tom Hanks when he isn't available to fix sound issues in his movies.
In addition, being in the city has allowed me to gain access to so many amazing resources that have helped me truly stay in touch with my art and my craft. The Lincoln Centre Performing Arts Library is my favourite place in the city, and has an extensive research collection including original scripts, archival footage and handwritten letters and notes by some of the Theatre's greats. It has been amazing being able to spend a day reading through original materials from some of the most famous shows ever written, as well as getting first hand access to scripts and scores from some of the most recent work on Broadway, all because I'm a student and young professional in the city. I'll spend entire days in the library just reading and watching because there is so much to learn and so many wonderful resources to discover. Not to mention being able to see dozens of Broadway shows in their original productions and meet some of the performers at the stage door. Being in the heart of the industry is so incredibly inspiring, I feel so lucky to be able to take every day to learn and grow and soak in what the city has to offer.
My most exciting project though was probably the show I produced in Vancouver when I came home last summer. Thanks to some amazing support from YHS, myself, some other amazing alumnae and some incredibly talented young Vancouver artists mounted a full scale production of Jason Robert Brown's "13" the musical, which received rave reviews and  played several sold out productions. It was the most challenging project I've ever taken on, as I produced and starred in the production, but also one I'm most proud of. It was challenging and stressful, but ultimately so rewarding as it really proved to myself and to the Vancouver theatre community that young artists really are capable of anything. It was a really empowering experience and it's really propelled me into some of my next projects in New York.
Have you stayed connected to the YHS network in New York?
I was absolutely thrilled to discover that the welcoming family community of YHS extends far beyond the walls of the school and the girls that I went to school with. I went to a "New Yorkies" meet up last spring, and was honestly a little nervous. I didn't know any of the other alumnae because they had all graduated years before I'd even started, but I was so comforted realizing that it really doesn't matter when you graduated, if you're a Yorkie, you're family. The other women were so incredibly welcoming and interested in learning about what I was working on, and shared really amazing advice and stories about being so far from home and navigating as a Canadian in the US, as well as having incredibly inspiring stories about their own exciting adventures. They even made sure to send me home with all the leftovers, because they wanted to make sure that the college student had plenty to eat in the dorms. I am so grateful and thankful to be a part of such an amazing and wonderful community. I can't wait for the next event so I can bring some of my friends from my years at YHS who graduated after me and recently joined me in New York along with me and show them just how powerful and loving the Yorkie network can be.
What are you currently working on?
Soon after graduating, a group of friends and I submitted the paperwork to incorporate a state not for profit theatre company in New York: Our Time Players. I'm currently the sitting Chair of the organization. We wanted to provide a platform to empower emerging artists finishing up their studies to take control of their artistic careers. What better way to gain experience and exposure than to collaborate with other talented young people to create engaging and meaningful art that matters to you. We've got a season of cabarets, full scale musicals and plays lined up that tell stories that are immediately relevant and important to young people. Especially in this global climate, the voices of young people are becoming more important and powerful than ever before, and we want to harness our power as the next generation of theatre makers to prove that it doesn't matter how young you are, or how little there might be on your resume, you have a powerful and valuable artistic voice that is worth paying attention to.
In addition, I've been working on several smaller acting jobs. I've become the face for a campaign encouraging young people to vote, done some extra work on a couple of well known web series and have done several cabaret gigs, and am looking forward to more in the near future!
As you finish up your two years at AMDA, talk to us about your immediate goals?
I'm currently working towards applying for my O1 Visa, which would allow me to continue to develop my career in New York for another three years. I'm hoping I'll be able to score some principal regional theatre jobs, and lead Our Time Players into a successful inaugural season, and hopefully several more. I'm very excited to see what possibilities exist for me in the near future. I'm at this stage in my career where there are so many possibilities and I can't wait to see what in the next couple of years have in store!
If you're interested in following my journey you can check out my website http://coletterichardsontheatre.com/ or my YouTube Channel
To follow the adventures of Our Time Players, check out our website https://www.ourtimeplayers.org/ or support us by donating to our crowdfunding campaign https://www.gofundme.com/ourtimeny