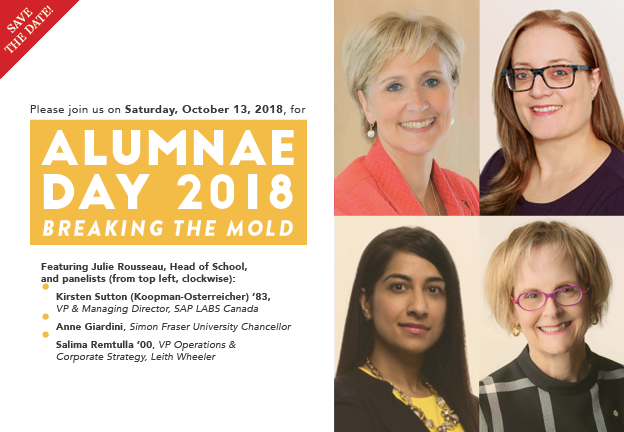 Save the date for Alumnae Day on Saturday, October 13, 2018! You are invited back to York House for an inspiring day to connect with fellow Yorkies, meet new members of the community, celebrate reunions, learn something new and more.
A Breaking the Mold panel of speakers, moderated by Julie Rousseau, new Head of School and innovative educator and leader, will include current YHS parent, Kirsten Sutton (Koopman-Osterreicher) '83, Vice-President and Managing Director, SAP LABS CANADA, Anne Giardini, SFU Chancellor, lawyer, corporate director, author and past YHS parent, and Salima Remtulla  '00, Vice President, Operations & Corporate Strategy at Leith Wheeler Investment Counsel.
Kirsten and Anne were both among the honorees who received the 2018 Influential Women in Business Awards on March 8 from Business in Vancouver, and Salima, who drives organizational change at work and is passionate about new experiences, was selected as one of Canada's young leaders to attend the Governor General's Canadian Leadership Conference last year, will have much to share and discuss with you from their wide range of work and life experiences.
Fun hands-on experiential activities will follow in the afternoon with a chance to push boundaries and to see things through a different lens. There will also be tours of the school, the Alumnae Art Gallery exhibit, the Museum & Archives as well as yoga with Dr. Genieve Burley and mindful meditation with Ly Hoang to start the day.
Join us for an exciting alumnae versus student basketball game arranged by the YHS Alumnae Association. Come cheer on the teams! The day concludes with the opening reception of the Alumnae Art Gallery Breaking the Mold exhibit. More information and full schedule can be found here: yorkhouse.ca/alumnaeday.