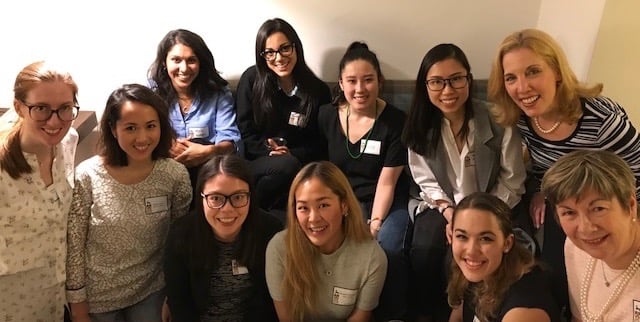 Head of School, Chantal Gionet, Executive Director Advancement Laura Edwards '74, and Andrea Jang '00 from the New Yorkies YHS Alumnae Chapter hosted the annual alumnae event at Andrea's residence in Manhattan on Thursday, April 27th.
13 women gathered to reminisce and share stories from their days at YHS, as well as recent personal and professional achievements.
One of the key highlights of the night was the multi-generational attendance from Nora Newlands '67 and her daughter Lindsay Forbes '96.
Other exciting news:
Charing Hui '06 was married in Vancouver last Fall and currently lives in NYC, working as a tax accountant.
Fashionistas: Nabila Dhanji '09 recently joined Theory & Helmut Lang as Chief of Staff, reporting to the CEO and Lesley Cheng '08 designs footwear at Loeffler Randall.
Studying in the City: Nicole Poon '11 recently started an optometry program in NYC, after completing her undergrad studies at McGill and Colette Richardson '16 is in a musical theatre and performing arts program.
Genevieve Leaf '05 searches for exciting locations for CBS TV shows; most recently she is working on the set of "Divorce", starring Sarah Jessica Parker and Thomas Haden Church.
Digital reporter Johanna Christina Li '12 is working at "Inside Edition" covering women's experiences with Planned Parenthood.