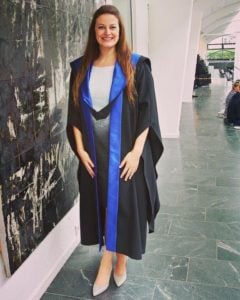 Congratulations to Natalee Sinclair '06 who has successfully completed her Full-Time Masters in Business Administration (MBA) at Copenhagen Business School (CBS). This comprehensive program emphasizes Leadership, Entrepreneurship, and Sustainability. With a class represented by 22 countries, she placed in the top tier of her class and completed her thesis project addressing a strategic problem faced by a global specialist company in energy management and automation.
Upon returning to Vancouver, she has accepted a position as manager for strategic projects with a national insurance brokerage. Natalee is currently working as the Project Manager for the Policies and Procedures Manual (PPM) utilizing her 10 years of experience in the Property & Casualty insurance industry and recently acquired MBA toolkit.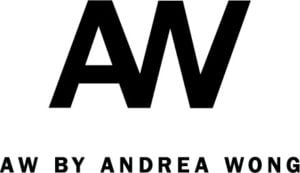 Accessories designer Andrea Wong '99 was recently featured in Western Living Magazine as a designer to watch out for.   Check out her locally-made bags and totes here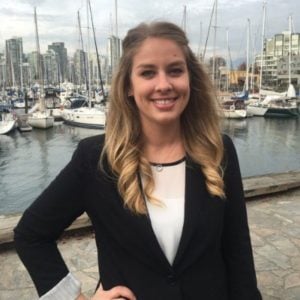 Robyn Wilson '05 was recently named one of BC Business Magazine's 30 Under 30.  Robyn is currently the Chief Operations Officer of Venue Kings Ticket Brokers, Inc. in Vancouver. When she started with the company, they were a three-person operation. Venue Kings has now grown to 26 team members that was just rated one of the fastest growing companies in BC and Canada.
Two leaving Gros Cap (photo by Mike Landmark)
Dianne Whelan '83 recently posted that she's "super excited and honoured to receive an Expedition Grant from The Royal Canadian Geographic Society for the next section of 500 Days in the Wild, the 2300km paddle of Lake Superior and Path of the Paddle to Manitoba." Congratulations Dee! The paddle of Lake Superior began on May 4 th with reports of a sweet south east wind. To follow Dianne on her 500 day journey click the link here.
The National Film Board launched a playlist for Canada 150 and Dianne's documentary film 'This Land' is part of the list.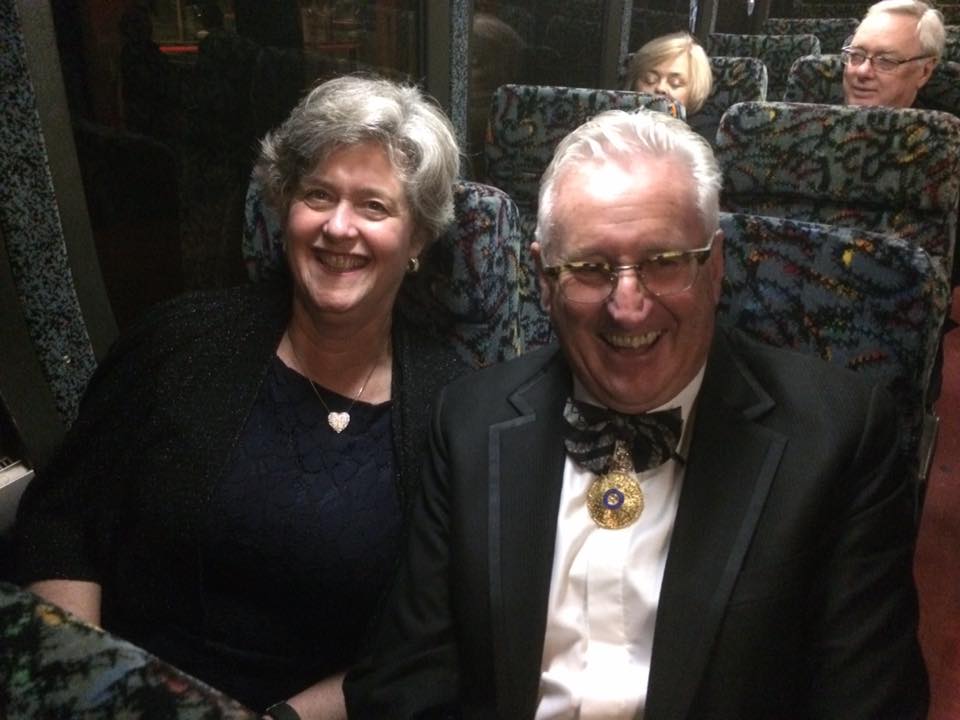 Barbie (Bentley) Hislop '72 and Ken Loughnan outgoing and incoming International Presidents of Variety – the Children's Charity
Barbara (Bentley) Hislop '72 just completed a successful 2-year term as the International President of Variety – the Children's Charity, which directly helps almost 140,000 children and 900 Children's organizations annually worldwide. Variety has offices in 14 countries. "I enjoyed seeing first-hand the many ways children were helped and how children's lives were enhanced with real hope." In pursuit of her passion for children, Barbie left the corporate world and became the Executive Director of Variety – the Children's Charity of BC in 2006. After retiring and moving to Great Britain, Barbie served on the board of Directors for Variety – the Children's Charity International and was elected to the President position in May 2015. Congratulations Barbie! You are an inspiration to us all.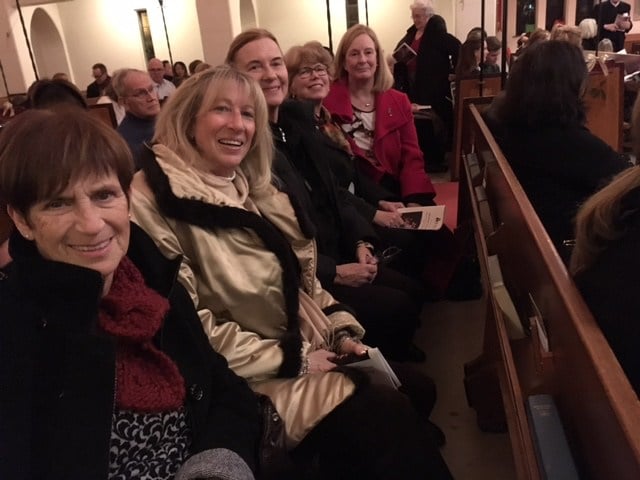 L-R: Anne (Brockley) Leech, Cindy Charkow, Wendy Chapman, Sharon (Burns) Jacks, Heather (Harrell) Robinson. Photo by Carol (Baillie) Cromie '66
Class Rep Carol (Baillie) Cromie '66 brought five classmates to the 3rd annual YHS Carol Service at St. John's Shaughnessy Church on December 7, 2017. "It was a lovely service and the YHS choir is excellent! Their harmonizing was beautiful! The Choir Director has done a super job with these young ladies!" Thanks to the Venerable John Stephens, music teacher Heather Christiansen, St. John's Shaughnessy church music director and organist, Michael Dirk, and rector's warden, Robyn Woodward '72, alumnae, parents, friends and family enjoyed a glorious program of choral music. They also had the chance to sing some of their favourite carols bringing back many memories of the times when the YHS Carol Service was held at St. John's from 1950 until 1993. All gathered for a festive reception after the service.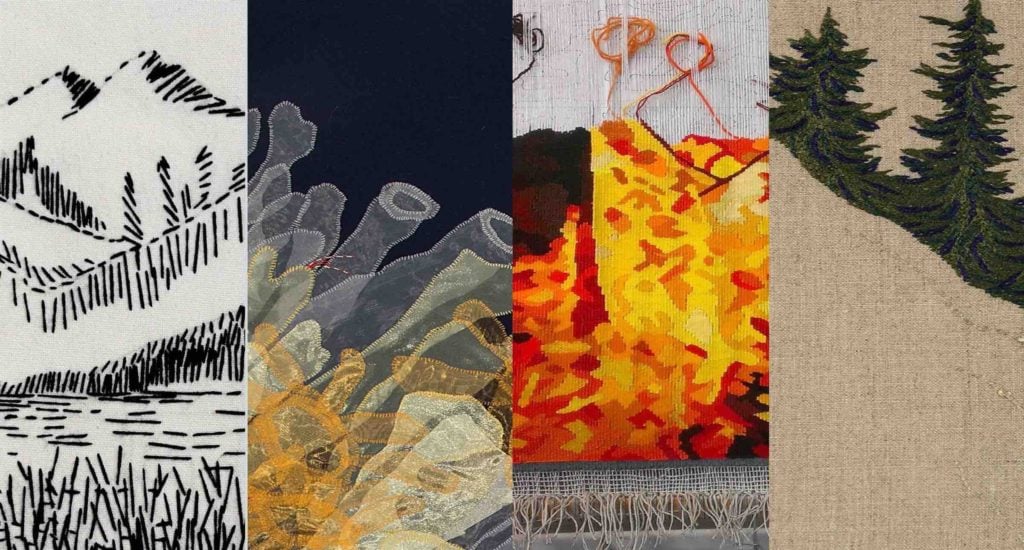 Connections Exhibition May 11 – June 22, 2017 6pm – 9pm
(in)finite spiritual conversations in cloth May 25 – June 4
Tapestry artist, Barbara Heller '65 is featured in an exhibition, Connections, with two other textile artists in collaboration with four members of Nature Vancouver. The artists "explore issues of cultural and natural destruction and the consumption, restoration and protection of nature. In a spirit of experimentation that has involved risk, research and steep learning curves, all participants have gained – and are pleased to share – new understandings of the natural world." Please click the link for more information.
Barbara will also be featured in Christ Church Cathedral as part of the (in)finite spiritual conversations in cloth exhibition featuring 30 Canadian textile artists and their explorations into the realm of the sacred. Click here for more information.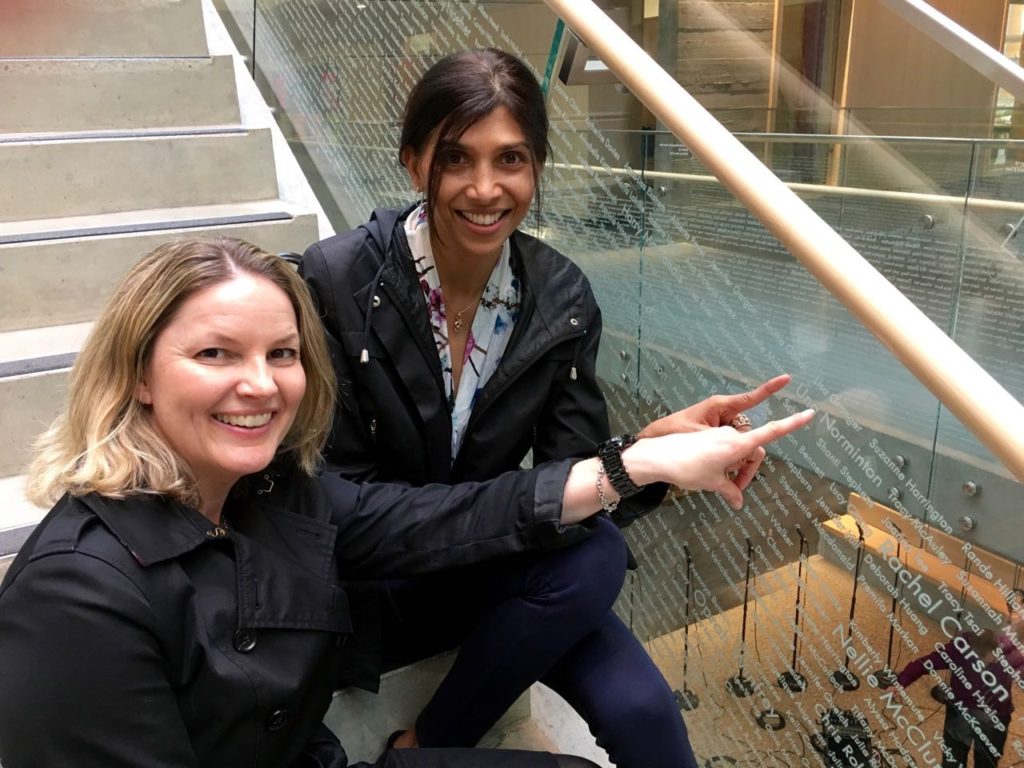 Lisa (Granger) Cunliffe '87 and Anitha (Gondi) Vasireddi '87
Class reps Lisa (Granger) Cunliffe '87 and Anitha (Gondi) Vasireddi '87 found their class names on the staircase glass panels while on a tour of the Senior School and YHS Museum & Archives last month.
Lisa commented, "The school looks spectacular!  We were especially touched by how well all of you have linked the past with the present (and the future!).  It's truly a special place and something to be immensely proud of." Anitha added, "I'm so proud to have graduated from such an awesome school. A big shout out to YHS for building such a beautiful campus and constantly improving to make it an even more warm and caring environment for the girls."
Lisa and Anita have been very busy preparing for their 30th reunion, which took place on Saturday May 27 at the TELUS Rooftop Garden and Glowbal restaurant. Photos and details will be posted on the YHS Alumnae Blog next week.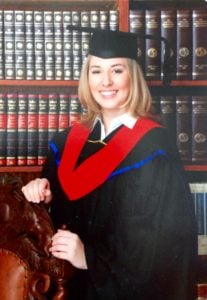 Meghan Drew-McKinstry from the Class of 2000 remains grateful for her wonderful Yorkie experience as a "lifer". Following a BA from McMaster University, she obtained a Masters of Science from the London School of Hygiene & Tropical Medicine and then went onto UBC where she graduated from medical school in 2012. In  2015,  she completed her FRCP,  Internal Medicine at the University of Calgary and in November of 2017,  she will sit Fellowship exams in sub-specialty haematology and oncology. Meghan is also planning a 6th final year as a Clinical Fellow in Palliative Care studying abroad before prior to establishing a practice in western Canada.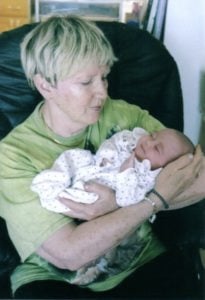 Judy (Evans) Jones '60 moved last summer to Penticton, BC after 41 years in the same house in Willow Brook (near Oliver). They are busy settling into their new home but Judy still finds time to volunteer and to enjoy her grandchildren. After working in Special Education at the schools within Southern Okanagan areas of Olalla, Keremeos, Osoyoos, Okanagan Falls and Oliver, as well as teaching basic life skills to handicapped adults, Judy is now retired. There's lots to celebrate as Judy will be 75 years young this month and it's 47 years since George and Judy were married at St. John's Shaughnessy Church in Vancouver. Congratulations to you both!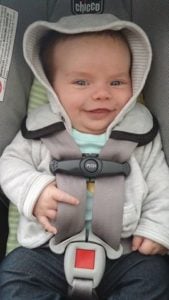 Congratulations to Jill and Devon Taylor '02 on the birth of their little boy William Benjamin Taylor on April 12, 2017.